Happy Friday Scrappers! It's Kim here on this awesome Friday morning!! I don't know about you but I am so glad Friday is finally here! It's been a long week. I have two days off work, thank goodness, and my boys are coming home today! Yay! As loud and destructive as they are….I REALLY miss them when they are gone. They have enjoyed their stay at Mama and Papa's house this week but now it's time for them to get back home where they belong…oh the fun of undoing all the spoiling damage will begin promptly upon their arrival!!!

It's a great Friday in the Bella Gypsy store too! It's new release day at ScrapMatters and there is something for everyone! Are you a mommy or Grandma of girls? We have you covered! Or do little boys flood your house like me? There's awesome goodies for you too! There are girly kits with boy add-ons and boyish kits with girly add-ons! There's something for everyone this week!

I like to move-it, move-it! Have a toddler on the go or an older child that just won't sit still? Mr and Miss Wiggleworm is perfect for scrapping all those "on the go" pictures! Buy the bundle and save…plus you will also get some coordinating word art for FREE….they are only available with the bundle!
CT Inspiration

Let's travel out east now and have some fun with Brooklyn and Boston! Purchase the bundle and you will not only save, you will get Bonus Word Strips for FREE!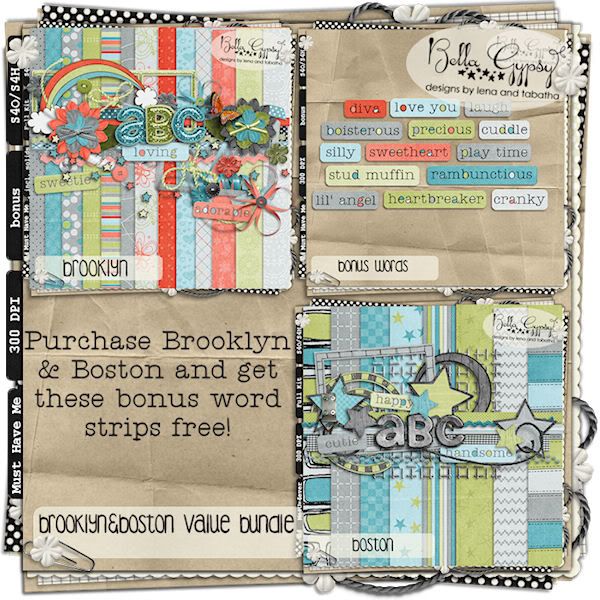 Here are some awesome layouts from the CT.

It's freebie QP time! I whipped up a QP using Frequent Flyer that was released a few weeks ago! All you have to do is click on the preview to download it!
I will see you back on Monday. I hope you all have a fantastic weekend.