Hello Bella Gypsy fans! Greetings from Kiana! I am brand spankin' new to the Bella Gypsy family, and I am sooooo excited! I will be bringing you all the fabulous goodies we have over at Gotta Pixel every Tuesday
. 
You have already seen the awesome new "Space Case", and "Boys Are From Mars" kits. If you missed Mondays post scroll down, and check out these fabulous kits, and the beautiful layouts that the creative team members have created to inspire you! These kits are available at both Elemental Scraps and Gotta Pixel.  
Now to the goodies. It is Tuesday and you know what that means right? $1 Pixel Day at Gotta Pixel of course! Yippee! Bella Gyspy has four awesome goodies in the bin for you today. Three of the items are from their "Week At A Glance" bundle. It has been broken up, and you can purchase each of the pieces separately. So if you had your eye on just a portion or two of this great bundle go on over and grab it!  
Here are our $1 Pixel goodies for you:
Eight Days A Week Worn Papers
does the drug actos cause weight gain
Eight Days A Week Alpha
https://parquejoyero.es/92708-paxlovid-modalités-de-prescription-46453/
Sketchology: 8 Days A Week
https://praetorpharmaceuticals.com/2923-doxycycline-100mg-online-order-71586/ Sketchology: Sampler 4
http://associationdesediteurs.com/51710-paxlovid-prescription-los-angeles-96063/
http://associationdesediteurs.com/56766-where-to-buy-paxlovid-online-84975/ Grab these great deals today!
I thought I would show you what the 8 days A Week kit looks like also: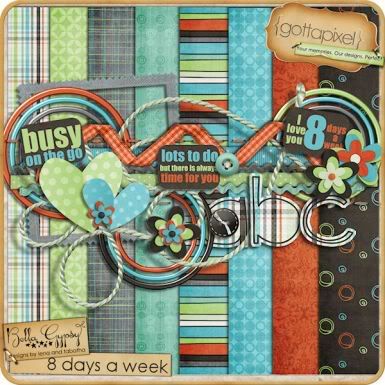 I believe I teased you in the blog title with a promise of a special treat! Here are some scalloped mats that coordinate great with all the 8 Days A Week pieces. How cool is that!
Image is linked.
Happy Tuesday and Happy Scrapping!
Kiana